Achieving genuine brand differentiation is harder than ever in today's over-saturated market. Long gone are the days where you can rely on the merit of your product or service alone: businesses need to couple this with an intelligent media plan and effective marketing approaches to differentiate themselves.
Designing a multipronged strategy might seem daunting, but we at Heard Agency pride ourselves on delivering all-inclusive approaches, offering each service in house with our expert team.
With a decade-long track record of creating memorable brands with cut through and longevity, our integrated services include strategy, design, media, video production, copywriting, CGI and 3D virtual tours.
We have successfully delivered more 3,000 branding and marketing projects, $121 million in consumer sales, and marketing for over 7,500 property dwellings.
After being recognised as one of Clutch's Top 100 Australian Companies (for Creative & Design), we were delighted to also have been given a Leader Award. Of more than 320 firms, we have been listed in the top 10 Design Agencies in Sydney.
"Our clients' satisfaction is always our top priority, so having our work endorsed by them to become one of Clutch's Leaders reminds us why we do what we do." — Paul Heard, Managing Director of Heard Agency
A company ranking site, Clutch lists the best service providers by industry and location to help both companies establish credibility, and buyers to find the ideal experts. After creating a Clutch profile last year, our clients were able to review in-depth both our services and quality, to incredible results.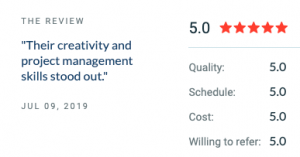 Thank you to both Clutch and our clients for the recognition. We look forward to seeing what the rest of this new decade will bring us, continuing to change conventions in everything we do. If you're ready to experience the Heard Difference, get in touch.